Ultrafast Ring Opening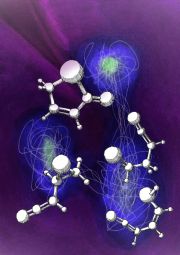 K-State physicists have taken extremely fast snapshots of light-induced molecular ring-opening reactions — similar to those that help a human body produce vitamin D from sunlight. The research is published in Nature Chemistry and more popularly explained in a K-State press release.
"Think of this as stop-motion like a cartoon," said Daniel Rolles, associate professor of Physics and the principal investigator. "For each molecule, you start the reaction with a laser pulse, take snapshots of what it looks like as time passes and then put them together. This creates a 'molecular movie' that shows how the electronic structure of the molecule changes as a function of how much time passes between when we start and when we stop."
Shashank Pathak, doctoral student and lead author on the paper, said the idea was to study the dynamics of how a ring opens in a molecule on the time scale of femtosecond, which is one quadrillionth of a second. The researchers use a free-electron laser to visualize how these reactions happen by recording electron energy spectra as the atoms in the molecule move apart.