Femtosecond Response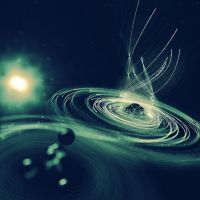 JRM researchers and their collaborators have published unexpected results in Nature.
This work used short pulses of ultra-intense high-energy X-rays to produce a detailed picture of how radiation interacts with molecules. This was the first time this kind of extreme light has been used to break up molecules, and may help scientists understand the damages from X-ray radiation.
In experiments using either soft or less-intense hard X-rays, it was thought that the induced charge and associated radiation damage of atoms in polyatomic molecules can be inferred from the charge that is induced in an isolated atom under otherwise comparable irradiation conditions. Here it seems that the femtosecond response of small polyatomic molecules that contain one heavy atom to ultra-intense, hard X-ray pulses is qualitatively different: experimental and modeling results establish that, under these conditions, the ionization of a molecule is considerably enhanced compared to that of an individual heavy atom with the same absorption cross-section. The heavy atom tears electrons from the other atoms, something like a molecular black hole.
Popularizations of this paper can be found in Scientific American and Newsweek, and in press releases from K-State, DESY and SLAC.