Nobel Prize in Physics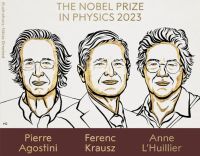 The Nobel Prize in Physics 2023 was awarded to Pierre Agostini, Ferenc Krausz and Anne L'Huillier "for experimental methods that generate attosecond pulses of light for the study of electron dynamics in matter".
The 2023 Laureates are colleagues of the JRML AMO group, publishing papers with all of them (more than 30 publications together). In particular, Cosmin Blaga, assistant professor at K-State, is a long-time collaborator of Pierre Agostini, who was Blaga's co-mentor at the Ohio State University. Agostini delivered a physics colloquium at K-State in 2005; Krausz and L'Huillier both attended the 2nd International Conference on Attosecond Physics hosted here in 2009.
K-State was selected to host that meeting because of the research that was going on in the JRML, whose members Zenghu Chang (now at the University of Central Florida), Lew Cocke (professor emeritus), and Chii-Dong Lin made important early contributions to the field of attosecond science. The lab will continue working in this area of research, which will receive a new boost with the arrival of new faculty hire Meng Han whose main area of expertise is generation, characterization and applications of attosecond light pulses.
Today's AMO research is fertile ground, having been the focus of the Physics Nobel in 2018, 2022 and 2023.