Ultrafast Imaging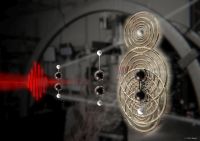 Lasers have successfully recorded a chemical reaction that happens as fast as a quadrillionth of a second, which could help scientists understand and control chemical reactions.
The idea for using a laser to record a few femtoseconds of a molecule's extremely fast vibrations as it breaks apart came from Kansas State University physicists. Chii-Dong Lin, university distinguished professor of physics, and Anh-Thu Le, research associate professor in James R. Macdonald Laboratory, are part of an international collaborative project published in the Oct. 21 issue of Science.
Working with those ideas, scientists at the European Institute for Photonic Science (ICFO), used an electron-imaging technique to capture the predissociated state of acetylene molecule just 9 fs after its ionization. On this time scale, the departing hydrogen atom and the remaining molecular fragment form an aloof complex in which the electronic coherence required to form bonds between the two is not yet fully lost. Imaging such transient states under different optical excitation conditions with high spatiotemporal resolution holds key information that may enable control of chemical reactions.
(See also the Science article, the overview Science Perspective and the K-State or ICFO press releases.)