CXFEL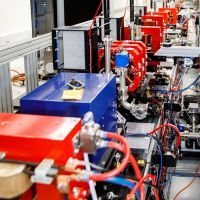 Two Kansas State University physicists are part of a team that has been awarded $90.8 million from the National Science Foundation to create a Compact X-ray Free-Electron Laser, or CXFEL, facility to study materials at an atomic level.
Artem Rudenko, Cortelyou-Rust professor of physics and director of the James R. Macdonald Laboratory, and Daniel Rolles, associate professor of physics, will contribute atomic, molecular and optical physics expertise to the diverse collaboration led by Arizona State University. K-State will receive $242,248 over five years for Rudenko and Rolles to help build the facility's electron-ion coincidence instrument.
This investment by the National Science Foundation, or NSF, through its Mid-scale Research Infrastructure-2 award supports cutting-edge science and engineering research infrastructure by underwriting the construction of unique instruments that provide deep, multidimensional information needed for transformative discoveries in a wide range of disciplines.
Details of the new machine are at the Arizona State Biodesign Institute.