Distinguished Professor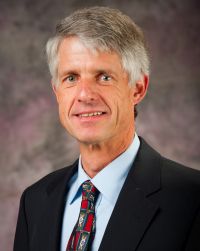 James R. Macdonald Laboratory theoretical physicist Uwe Thumm has been named a University Distinguished Professor. Uwe joins a long line of Physics professors who have been so honored. Current Distinguished Professors in the Physics department include Itzik Ben-Itzhak, Brett Esry, CD Lin, Bharat Ratra and Chris Sorenson. Retired or otherwise past professors include Lew Cocke, Pat Richard, Dean Zollman, Talat Rahman and Bill Reay. Clearly, we're doing something right!
Distinguished Professor is a lifetime title that is the highest honor the University bestows on its faculty for demonstrating their commitment to education through their excellence in teaching, research, creative endeavors and service. Five University faculty members were so honored this year.
Uwe's research focuses on resolving in time and space the motion of electrons and nuclei in ion-surface interactions and during the fragmentation of small molecules by ultra short and intense laser light pulses. Uwe also does research on the theory of atomic structure and particle - surface interactions. He is also recipient of the 2014 Humboldt Research Award and was named the 2015 Commerce Bank Distinguished Graduate Faculty member.