Superheated Nanoparticles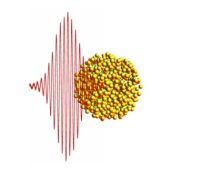 Think of it as a microscopic movie: A sequence of X-ray images shows the explosion of superheated nanoparticles. The picture series reveals how the atoms in these particles move, how they form plasma and how the particles change shape.
The method of taking these pictures is a collaborative creation that involved Kansas State University researchers Artem Rudenko and Daniel Rolles, both assistant professors of physics.
"We can create a real movie of the microworld," Rudenko said. "The key development is that now we can take sequences of pictures on the nanoscale."
Rudenko and Rolles — both affiliated with the university's James R. Macdonald Laboratory — collaborated with researchers at SLAC National Accelerator Laboratory at Stanford University, Argonne National Laboratory and the Max Planck Institutes in Germany. Their publication, "Femtosecond and nanometre visualization of structural dynamics in superheated nanoparticles", appears in Nature Photonics. You may also read the K-State news release.