K-State Physics on APS TV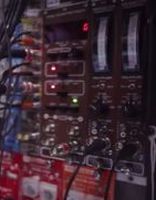 APS TV and Kansas State University are proud to present a new video on Physics at K-State. Kansas is more often associated with agriculture, tornadoes and empty space than with high-level science and technology, and changing this perception is the central goal of the film. Current cutting-edge physics research at K-State focuses on the areas of Atomic, Molecular and Optical (AMO) physics (here at the J. R. Macdonald Lab) and high-energy physics/cosmology, specifically highlighting the very high level of support by the United States Department of Energy (DOE). Our association with other large-scale scientific facilities is also a highlight.
APS TV is a partnership between the American Physical Society and the international film and broadcasting company WebsEdge. You can find the full WebsEdge Science APS playlist on YouTube.
The full length (05:10) video is also on our own K-State Physics YouTube channel, of course.