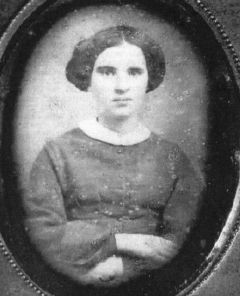 Margaret Leonice Needham Still
Margaret Leonice NEEDHAM
8 Sep 1838 - 22 Jan 1912
BIRTH: 8 Sep 1838, Fenner, Madison, NY
DEATH: 22 Jan 1912, Havre De Grace, Harford, MD
BURIAL: 25 Jan 1912, Angel Hill Cemetery, Havre de Grace, MD
Father: George William NEEDHAM
Mother: Risa Loretta TITUS

Family 1 : Henry "Harry" STILL
MARRIAGE: 3 Jul 1864, Shelby, IL
---

                                               _John NEEDHAM _______+
                           _John NEEDHAM _____|
                          |                   |_Phebe SHATTUCK _____+
 _George William NEEDHAM _|
|                         |                    _Thomas CUSHING _____+
|                         |_Betsy CUSHING ____|
|                                             |_Elizabeth TURNER ___+
|
|--Margaret Leonice NEEDHAM 
|
|                                              _____________________
|                          _Jeduthan TITUS ___|
|                         |                   |_____________________
|_Risa Loretta TITUS _____|
                          |                    _Ebenezer INGERSOLL _+
                          |_Dorcas INGERSOLL _|
                                              |_Margaret WHITCOMB __+

---
[47] Details of the Margaret Leonice Needham line courtesy of John F. Hartman,
Historical Society of Harford County, MD. [johnfhartman@comcast.net].

(Leonice also spelled Leonis.)

Is said to have been awarded the first full degree granted a woman by
Waynesburg (PA) College in 1857. From a letter to Cricket Tubbs from
Paul R, Stewart, college president, Jan 1929.

Death Certificate of Margaret L. Still
Swan Creek, Harford, MD.
Gives incorrect year and place of birth; incorrect father's middle name and place of birth.
Gives DOD as 22 Jan 1912 in Swan Creek, Harford, MD.

"Henry Still; Beloit"
"The United States Biographical Dictionary: Kansas Volume"
S. Lewis & Co., Chicago and Kansas City, 1879.
http://www.ancestry.com/
"He was married again at Onarga, Illinois, July 3, 1864, to Miss M. Leonice Needham,
daughter of Rev. George Needham, a lady of culture and a writer of eminence...
They have one child - Crickette."

1850 US Federal Census
Worcester Ward 5, Worcester, MA
Roll: M432_342, Page: 212

1860 US Federal Census
Loda, Iroquois, IL

1865 Kansas State Census
Alexandria Township, Leavenworth, KS
Kansas State Historical Society Microfilm Roll: ks1865_5
(Brother Hawley is living with the Stills.)

1870 US Federal Census
Stranger Twp, Leavenworth, KS (ie, Tonganoxie)

1880 US Federal Census; 1885 Kansas State Census
Beloit, Mitchell, Kansas
(Risa Needham is included in the 1885 enumeration.)

1900 US Federal Census
Tonganoxie Twp, Leavenworth, KS and 10th Ward, Baltimore, MD
(I assume she was double-counted while visiting Risa and Carrie Needham in Tonganoxie.)

1910 US Federal Census
District 2 (Havre de Grace), Harford, MD

Needham Lineage and Genealogical Notes
Previously unpublished; 1962
Hawley Vincent Needham, Kathryne Lowe Needham Shepherd

Needham Family Genealogical Notes
Unpublished work; 1998
Virginia Joy Chism Nichols

Virginia claims DOD 22 Jan 1912 (from obit); Vin had only 1911.
Marriage to Harry Still officiated by Rev. George Needham.