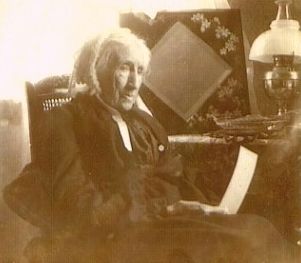 Risa Loretta Titus Needham
Risa Loretta TITUS
17 Feb 1817 - 26 Dec 1904
BIRTH: 17 Feb 1817, Onandoga, Onandaga, NY
DEATH: 26 Dec 1904, Tonganoxie, Leavenworth, KS
Father: Jeduthan TITUS
Mother: Dorcas INGERSOLL

Family 1 : George William NEEDHAM
MARRIAGE: 8 Nov 1836, Hampton, Oneida, NY
---

                                           _____________________
                     _____________________|
                    |                     |_____________________
 _Jeduthan TITUS ___|
|                   |                      _____________________
|                   |_____________________|
|                                         |_____________________
|
|--Risa Loretta TITUS 
|
|                                          _Richard INGERSOLL __+
|                    _Ebenezer INGERSOLL _|
|                   |                     |_Zipporah SMITH _____+
|_Dorcas INGERSOLL _|
                    |                      _Nathaniel WHITCOMB _+
                    |_Margaret WHITCOMB __|
                                          |_Margaret GIBBS _____

---
[46] Risa Loretta Titus Needham Obituary Abstract
"Tonganoxie Mirror" Obituary Vertical File
Tonganoxie Public Library
29 Dec 1904 and 05 Jan 1905 issues

"Genealogy of the Ingersoll Family in America"
Lillian Drake Avery
Frederick H. Hitchcock, Grafton Press, New York, 1926
p. 64: "Rosa Loretta Titus, b. Feb. 18, 1817, Onondaga, N. Y.; d. Dec. 27, 1905,
m. Nov. 8, 1836, Hampton, N. Y., George Needham, clergyman, b. Nov. 11, 1805,
Fenner, Madison Co., N. Y.; d. Jan. 20, 1869, Leavenworth Co., Kansas, son of
John and Betsy (Cushing) Needham. Mr. Needham was a prominent temperance
and anti-slavery lecturer. He gave addresses in almost every town and school
district in Rhode Island in favor of the "Maine Liquor Law " in the '50's as well as
in Conn. and Mass. He was an Oberlin man."

"Family Data Collection "
(aka, "Gene Pool Individual Records")
Edmund West
http://www.ancestry.com/
"Rosa Loretta Titus Spouse: George Needham Parents: Jeduthan Titus , Dorcas Ingersoll
Birth Place: Onondaga Co, NY Birth Date: 18 February 1817
Marriage Place: Hampton, NY Marriage Date: 8 November 1836
Death Date: 27 December 1905"

"History of Chenango and Madison Counties, NY...1784-1880"
James H. Smith
D. Mason & Co, Syracuse, NY 1880, pp. 694-699

1850 US Federal Census
Worcester Ward 5, Worcester, MA
Roll: M432_342, Page: 212

1860 US Federal Census
Loda, Iroquois, IL

1870, 1880 US Federal Census
Stranger Twp, Leavenworth, KS (ie, Tonganoxie)

1875 Kansas State Census
Stranger Township, Leavenworth, KS
Kansas State Historical Society Microfilm Roll: ks1875_11

1885 Kansas State Census
Beloit, Mitchell, KS
(Risa was apparently visiting Harry and Maggie Still during the census.)

1895 Kansas State Census
Tonganoxie Twp, Leavenworth, KS

1900 US Federal Census
Tonganoxie Twp, Leavenworth, KS

Needham Lineage and Genealogical Notes
Previously unpublished; 1962
Hawley Vincent Needham, Kathryne Lowe Needham Shepherd
Gives DOB as 17 Feb 1817; DOD as 26 Dec 1904.

Needham Family Genealogical Notes
Unpublished work; 1998
Virginia Joy Chism Nichols
Record #42; Virginia claims DOB 18 Feb 1818; grave stone says 1818 - 1904.

Maple Grove grave is with other family members, just off and halfway down
second road past the cemetery entrance.