Travel
Transportation from Kansas City International Airport
MCI Airline Information
| Terminal A | Terminal B | Terminal C |
| --- | --- | --- |
| Air Canada | Delta | American Airlines |
| AirTran Airways | Southwest | Continental Airlines |
| Midwest Airlines | | Frontier |
| US Airways | | Northwest Airlines |
| United | | International Arrivals |
Note: The Kansas City airport's official designation is MCI ("Mid-Continent International"). It is frequently referred to locally as KCI ("Kansas City International"). We will use MCI here.
Most participants will fly into the Kansas City International airport. From MCI to Manhattan, there are several recommended possibilities. The easiest is to take the free bus that will be chartered by the Attosecond Conference. A second possibility is to contact the shuttle bus service to Manhattan. A third possibility is to rent a car and drive to Manhattan. (It's about a 2-hour drive.) The fourth possibility is to book a flight from Kansas City International Airport (MCI) to Manhattan Regional Airport (MHK). These four options are described in more detail below.
Flights also exist from Denver International Airport (DIA) to Manhattan. From the Manhattan airport, you can ask for a hotel's shuttle service or call a taxi. Contact us we can also arrange someone to pick you up from the airport.
The descriptions below are for participants flying into MCI:
Chartered Bus: On Tuesday, 28 July, buses are scheduled to leave the Kansas City airport from Terminal B at 3:30 pm (1530 hr), 6:30 pm (1830 hr) and 10:30 pm (2230 hr). If your flight arrives at Terminal A or Terminal C, simply take the "Red Bus" (that's what it's called as well as its color!) from your terminal to Terminal B. The chartered bus will be waiting near the center island outside Gate 56. It will have an "Attosecond Conference" sign displayed on its windshield. Simply board the bus at your convenience.
Participants taking the 6:30 pm bus will go to the Art Museum for reception directly. Local participants will take you to your hotel or dormitory at the end of the reception period. Those taking the 3:30 pm or 10:30 pm bus will go to the hotels and campus housing directly. If you take the last bus, you can register next day.
The chartered buses will also be returning travellers to the airport on Sunday morning, 02 August. The exact schedule is being refined and will be posted here when available.
If your flight arrives early, and you wish to find a place to relax, we suggest that you head to the "Boulevard Brewery", located near Gate 56 in Terminal B. Not only do they serve a locally brewed beer, but by congregating at that location, you have a reasonable chance of meeting other conference attendees.
If your flight is delayed and you find that you will not be able to catch either of the conference buses, you can then consider the other two options.
Shuttle Bus: Should you be unable to take the free conference bus to Manhattan, the next easiest option is to take a commercial shuttle bus. You can contact the shuttle company, KCI RoadRunner, from courtesy phones located in all three terminals. If you wish to use your mobile phone or a pay phone, the toll-free contact number for KCI RoadRunner is 800-747-2524. When you contact KCI RoadRunner, they will give you complete details on where and when to meet them. Briefly, you will meet them on the center island, near Gate 15 of Terminal A, or Gate 50 of Terminal B, or Gate 72 of Terminal C. The shuttle is a van with the name "RoadRunner" prominently displayed on its side. The KCI RoadRunner shuttle departs from MCI roughly every 2 hours. For their complete schedule, please check their website. You can also book in advance on their website if you like.
Car Rental: A number of car rental companies service Kansas City International Airport. Simply locate a courtesy phone, located in each terminal, dial up the company of choice, and they will send a shuttle to pick you up and bring you to the rental company office, located just minutes away. The drive to Manhattan is not difficult but can be tedious, especially after a long international flight. More than 95% of the drive is on well-marked interstate routes or on large state routes. You can count on the drive taking roughly 2 hours.
Complete ground transportation details are available at the airport's web site.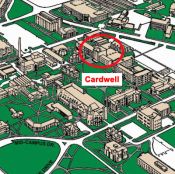 Flying to Manhattan: Several flights each day depart Kansas City International Airport for Manhattan, Kansas. Flights also exist from Denver International Airport to Manhattan. We strongly recommend that if you intend to make use of this mode of travel, that you book your flight well in advance. Please see the Manhattan Regional Airport web site for details.
Campus Maps: Clicking the image to the right delivers a printable Acrobat (pdf) map of the Kansas State campus with the meeting venues highlighted. You might also want to explore the campus via the University's interactive map, with Google Maps, or by downloading this placemarker (kmz) file for Google Earth.