Accommodations
We advise you to register for this conference before you make room reservation. For foreign participants it is most convenient that you request rooms through the DCE registration website.
Hotels
A block of rooms has been reserved at the hotels listed below for program participants at the special rates listed. Please refer to Attosecond Physics when making your reservation directly with the hotels. After the cut-off dates listed, reservations will be made at the special rate on a space-available basis only.
Holiday Inn at the Campus


(As of 30 June, there is no vacancy at the Holiday Inn.)


17th and Anderson Avenue
Manhattan, KS 66502
Across the street from K-State Student Union
785-539-7531
Group rate: $99.95 + tax per night
Cut-off date: June 28, 2009

Clarion Hotel
530 Richards Drive
Manhattan, KS 66502
15 blocks from K-State Student Union
785-539-5311
Group rate: $76 + tax per night, up to four people
Cut-off date: July 7, 2009

Campus residence halls


(As of 09 June, there is no vacancy in the residence halls.)


Facilities featuring single rooms with bathrooms on each corridor are available for workshop participants for $40 per night. Transportation to and from workshop lectures and activities will be provided throughout the week. Campus Housing is located about a 10 -15 minute walk from the conference setting. To make a reservation for campus residence halls or for more information, please e-mail ecmoore@k-state.edu. Requests for residence hall accommodations must be received by June 19, 2009.
Visitor Parking
Parking is limited on the K-State campus. If you are staying at the Holiday Inn at the Campus, the hotel is located directly across the street from the campus. You may prefer to leave your car at the hotel and walk to the K-State Student Union and the Alumni Center. If you do wish to park your car on campus, mark the appropriate area on your registration form.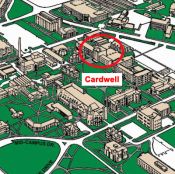 Campus Maps
Clicking the image to the right delivers a printable Acrobat (pdf) map of the Kansas State campus with the meeting venues highlighted. You might also want to explore the campus via the University's interactive map, with Google Maps, or by downloading this placemarker (kmz) file for Google Earth.