Elucidating Isotopic Effects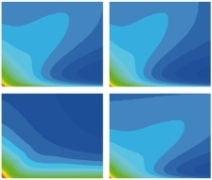 JRM scientists have made the cover of the Journal of Physics B: Atomic, Molecular and Optical Physics.
The triatomic hydrogen molecular ion has attracted interest in fields as diverse as chemistry and astronomy. It has also gained attention from the strong-field laser community since, being the most basic stable polyatomic molecule, it could be pivotal to our understanding of laser-driven molecular dynamics.
Earlier work explored the strong-field fragmentation of H3+ and D3+ molecules. New research focuses on the isotopologue D2H+. In many ways this member of the H3+ family could be considered more exciting than its counterparts as it naturally poses the question of whether there are any isotopic effects arising from the mass-asymmetry of the D2H+ ion.
Using a crossed-beams coincidence 3D momentum imaging method we can separate all the possible fragmentation channels of D2H+ in intense, ultrashort laser pulses. This lets us find the branching ratios of break-up channels differing by the isotope. Notably we see sizeable differences in some channels. We visualize and qualitatively explain these findings based on the topology of the potential energy surfaces of this molecular system, using mass-scaled coordinates.