Supercharged Ionization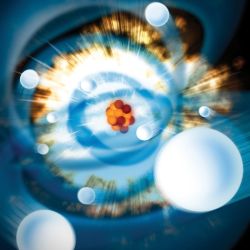 A collaboration including our own Artem Rudenko has used the Linac Coherent Light Source (LCLS) to find a way to strip most of the electrons from Xenon atoms, creating a "supercharged", strongly positive state at energies previously thought too low. The work, "Ultra-efficient ionization of heavy atoms by intense X-ray free-electron laser pulses" was recently published by Nature Photonics.
Beside Artem, the research team includes scientists from 19 research centers from around the world. The LCLS is a new facility at the US Department of Energy's SLAC National Accelerator Laboratory.
The finding has received a great deal of attention, including a story on the popular technology site, Slashdot.