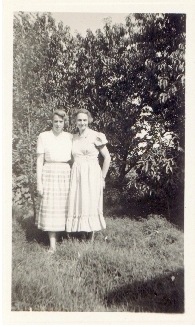 Risa Needham and Helen Needham Haynes at the farm of Louis Needham on Jarbalo, Ks.
Risa Eva NEEDHAM
20 Jul 1911 - 30 Sep 1996
OCCUPATION: Registered Nurse

BIRTH: 20 Jul 1911, Palisade, Mesa, CO
DEATH: 30 Sep 1996, Anthony, Harper, KS
BURIAL: Maple Grove Cemetery, Tonganoxie, Ks
Father:
Hawley Vincent NEEDHAM
Mother:
Laura Lena "Lottie" ELLIS
---

                                                        _George William NEEDHAM _+
                              _Hawley Varnum NEEDHAM __|
                             |                         |_Risa Loretta TITUS _____+
 _Hawley Vincent NEEDHAM ____|
|                            |                          _William Fletcher LOWE __+
|                            |_Catherine Amelia LOWE __|
|                                                      |_Elsie Aquilla SMITH ____+
|
|--Risa Eva NEEDHAM 
|
|                                                       _Reese ELLIS ____________+
|                             _Thomas Llewellyn ELLIS _|
|                            |                         |_Sarah A. GRIFFITH ______
|_Laura Lena "Lottie" ELLIS _|
                             |                          _Elwood HIATT ___________
                             |_Rosa Belle HIATT _______|
                                                       |_Mary MOORMAN ___________

---
[32] Risa Eva Needham Obituary
"Tonganoxie Mirror" Obituary Vertical File
Tonganoxie Public Library
No date given;
(presumably 01 Nov 1996 issue of the Harper paper).

US Social Security Administration
Social Security Death Index, Master File
"Risa E. Needham, Born: 20 Jul 1911, Died: 30 Sep 1996
Last Residence: 67058 Harper, Harper, Kansas"

1920 US Federal Census
Eudora, Douglas, Kansas
Roll: T625_531; Page: 11A; Image: 0038
(She and brother Frank living with uncle & aunt F. O. & Vivian Wells)

1930 US Federal Census
District 34, Tonganoxie, Leavenworth, KS
(Living with great aunt Carrie and great uncle George.)

1940 US Federal Census
Kansas City, Wyandotte, Kansas
Roll: T627_1269; Page: 1B; Enumeration District: 106-67B.
(Surgical Nurse, Bethany Methodist Hospital And Nurses Training Home)

Needham Lineage and Genealogical Notes
Previously unpublished; 1962
Hawley Vincent Needham, Kathryne Lowe Needham Shepherd

Needham Family Genealogical Notes
Unpublished work; 1998
Virginia Joy Chism Nichols
Record #62

Maple Grove grave is located with other family members,
halfway down the incoming road of the cemetery.