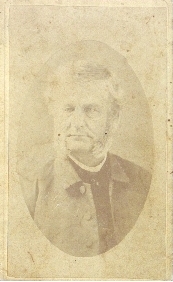 William Fletcher Lowe (Photo by G.W. Sittler of Shelbyville, IL)
William Fletcher LOWE
13 Feb 1819 - 13 Jan 1890
BIRTH: 13 Feb 1819, Olean Point, Cattaraugus, NY
DEATH: 13 Jan 1890, Macon, Macon, IL
BURIAL: Jan 1890, South Macon Township Cemetery, Macon, Macon, IL
Father: William LOWE
Mother: Bridget MATTHEWS

Family 1 : Elsie Aquilla SMITH
MARRIAGE: 7 Oct 1841, Macon, Macon, IL
---

                                           _______________________
                     _Cornelius LOWE _____|
                    |                     |_______________________
 _William LOWE _____|
|                   |                      _Mordecai MCKINNEY ____+
|                   |_Catherine MCKINNEY _|
|                                         |_Agnes (Antje) BODINE _+
|
|--William Fletcher LOWE 
|
|                                          _Vincent MATTHEWS _____+
|                    _James MATTHEWS _____|
|                   |                     |_Catalina ABEEL _______+
|_Bridget MATTHEWS _|
                    |                      _Selah STRONG Jr_______+
                    |_Hannah STRONG ______|
                                          |_Hannah WOODHULL ______+

---
[358] "Genealogy of the Lowe Family"
Previously unpublished, undated family memoir
Catherine Julia Lowe Marr and William Fletcher Lowe
"Studied law, but entered the Methodist ministry, and was for some time a Presiding Elder...
In 1860 he moved to Arrow Rock, MO. As it was known he was from the North, the lives of
himself and family were in such danger that he moved to Illinois"

"Lowe Genealogy"
Jesse Smith Lowe, Highland Park, IL (1933)
Blanche Beal Lowe, Newark, OH (1966)
died "at the home of his daughter Sue E. Webb".

"Annals of the Forty"
R. Janet Powell
Grimsby Historical Society, 1950-1959
Volume 8, p. 43

1851 Census of Canada
Southwold, Elgin, Canada West (Ontario)
District 7, Sub-District 51
Roll: C_11719, Page 169, Line 45

1870 US Federal Census
Butler Twp, Montgomery, IL

1880 US Federal Census
Bath, Mason, IL

Grave of William Fletcher Lowe, 1819-1890
South Macon Township Cemetery
Macon, Macon County, Illinois
Find A Grave Memorial #46625476
http://www.findagrave.com/cgi-bin/fg.cgi?page=gr&GRid=46625476

Needham Family Genealogical Notes
Unpublished work; 1998
Virginia Joy Chism Nichols
Notation from Virginia Chism record #50

Needham Lineage and Genealogical Notes
Previously unpublished; 1962
Hawley Vincent Needham, Kathryne Lowe Needham Shepherd
Dates are from Kittie's DAR application.