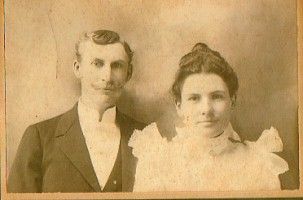 Louis Fletcher Needham and Nellie Wade Rule Needham
Nellie Wade RULE
27 Jul 1872 - 24 Feb 1907
BIRTH: 27 Jul 1872, Sherman, Cherokee, KS
DEATH: 24 Feb 1907, Neely, Leavenworth, KS
BURIAL: Maple Grove Cemetery, Tonganoxie, Ks
Father: K. Dempsy RULE
Mother: Elizabeth

Family 1 : Louis Fletcher NEEDHAM
MARRIAGE: 16 Jun 1898, Omaha, Douglas, NE
---

                      __
                   __|
                  |  |__
 _K. Dempsy RULE _|
|                 |   __
|                 |__|
|                    |__
|
|--Nellie Wade RULE 
|
|                     __
|                  __|
|                 |  |__
|_Elizabeth ______|
                  |   __
                  |__|
                     |__

---
[22] Died in childbirth during an influenza epidemic.
Catherine was formally adopted by Kittie (Needham) and William Shepherd;
Helen Elsie was raised by Fred and Theckla Needham and by Elsie Loretta Needham.
Lizzie, Louis' second wife, would have nothing to do with the earlier children.

1880 US Federal Census
Milford, Barton, MO
Roll: T9_673; Page: 454C; Image: 0244.

Nellie Wade Rule Needham Obituary Abstract
"Tonganoxie Mirror" Obituary Vertical File
Tonganoxie Public Library
28 Feb 1907 issue

Needham Lineage and Genealogical Notes
Previously unpublished; 1962
Hawley Vincent Needham, Kathryne Lowe Needham Shepherd

Needham Family Genealogical Notes
Unpublished work; 1998
Virginia Joy Chism Nichols
Record #66

Dates on grave agree with above; Maple Grove grave is halfway down second
road in cemetery.