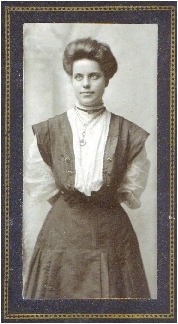 Theckla Emily Farrell, 1908
Theckla Emily "Teck" FARRELL
1 Sep 1889 - 8 Oct 1961
OCCUPATION: Farm Wife

BIRTH: 1 Sep 1889, Leavenworth, Leavenworth, KS
DEATH: 8 Oct 1961, Tonganoxie, Leavenworth, KS
BURIAL: 11 Oct 1961, Maple Grove Cemetery, Tonganoxie, Ks
Father: Martin George "MG" FARRELL
Mother: Mollie Johanna ENDRISS

Family 1 : Fred Leone NEEDHAM
MARRIAGE: 31 May 1922, Tonganoxie, Leavenworth, KS
---

                                                     __
                               _Michael O'FARRELL __|
                              |                     |__
 _Martin George "MG" FARRELL _|
|                             |                      __
|                             |_Jane BUTLER ________|
|                                                   |__
|
|--Theckla Emily "Teck" FARRELL 
|
|                                                    __
|                              _Charles G. ENDRISS _|
|                             |                     |__
|_Mollie Johanna ENDRISS _____|
                              |                      __
                              |_Mary MULLER ________|
                                                    |__

---
[11] Leavenworth County, KS Marriage License
"C. No. 1777; P.J. No. 3670", 31 May 1922
Fred L. Needham and Theckla Farrell
Marriage performed by Presbyterian minister Samuel Fackler Wilson
KSHS Film AR7337; Book V; Page 550

Farrell - Needham Wedding Abstract
"Tonganoxie Mirror" Vertical File
Tonganoxie Public Library
01 Jun 1922 issue
"Farrell, Theckla to Needham, Fred
Married: 31 May 1922, home of the bride's parents,
Mr. & Mrs. M. G. Farrell."

"Groom's Index/Bride's Index, Books K-V:
Jan 16, 1900 - Aug 31, 1922, Leavenworth, KS"
Debra F. Graden, 2002

1900 US Federal Census
Delaware Twp, Leavenworth, KS

1910, 1920 US Federal Census
Tonganoxie Twp, Leavenworth, KS
(with parents M.G. and Mollie Farrell.)

1930, 1940 US Federal Census
Tonganoxie Twp, Leavenworth, KS
(with husband Fred L. Needham and all 3 boys.)
1940: Roll: T627_1240; Page: 4B; Enumeration District: 52-35B.

Theckla Farrell Needham Obituary
"Tonganoxie Mirror", 12 October 1961

Obituary of "Mrs. Theckla Emily Needham"
Leavenworth Times, 09 Oct 1961

Needham Lineage and Genealogical Notes
Previously unpublished; 1962
Hawley Vincent Needham, Kathryne Lowe Needham Shepherd

Needham Family Genealogical Notes
Unpublished work; 1998
Virginia Joy Chism Nichols
Record #75; Virginia claims birth was in Tonganoxie, but
the Farrells did not move there until 1907.

Grave is located alongside the second road past the Maple Grove
cemetery entrance, halfway down its length.