How to Retake the Vivid-Learning Laser Safety Course
The Macdonald Lab safety policy requires that everyone working in the lab periodically refresh his laser safety training. Everyone who has a key to the lab needs to complete a refresher of the online Laser Safety course that KSU offers through Vivid Learning. People working on laser experiments will also have to refresh their hands-on laser safety demonstration lab.
Your account with Vivid Learning will have been set up by KSU when you first applied for access to the JRML. To retake the course, you need to open your Vivid account . The following link will let you sign in to Vivid using your K-State eid credentials:
https://otis.osmanager4.com/KSU.
You next need to add the Laser Safety course to your training program. From your default dashboard, you click on the "ADDITIONAL RESOURCES" tab at the top of the window. Type "laser" into the "Title" field, and click the green "SEARCH" button and the Laser Safety module should show up in the available courses list. You then click the blue arrow button at the far right of the course list. This will launch the Laser Safety course. The course will also be added to your "TRAINING" tab on your dashboard. If you need to leave the course before completing it, you can pick up again where you left off by opening the course from the TRAINING list. If you answer less than 80% of the test questions correctly, you will have to go back to the course material and review the modules that are NOT marked with a green checkmark. You can then retake the test. After you finish the course, you will need to save a copy of your completion certificate and email it to the JRML safety officer.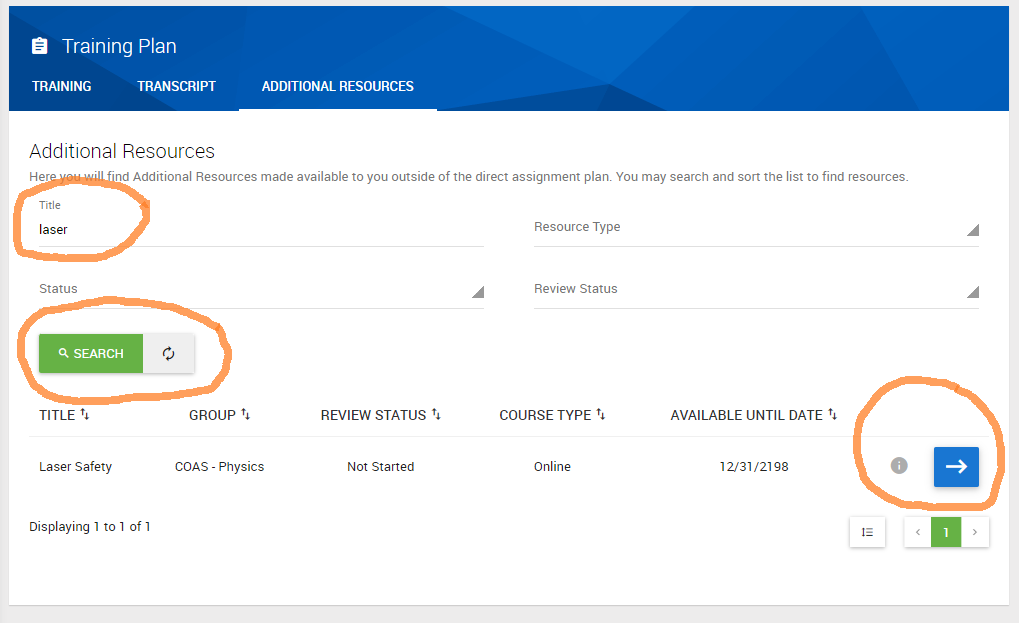 When you get to the end of the training course, you will need to exit the course module to print/save your certificate of completion. You should be taken to your TRANSCRIPTS tab when you close the completed course. The page icon at the right side of the listing of your completed Laser Safety course lets you view/save/print your certificate. Download a pdf copy of the certificate, then email the file to macf@phys.ksu.edu so your training can be entered into your lab records.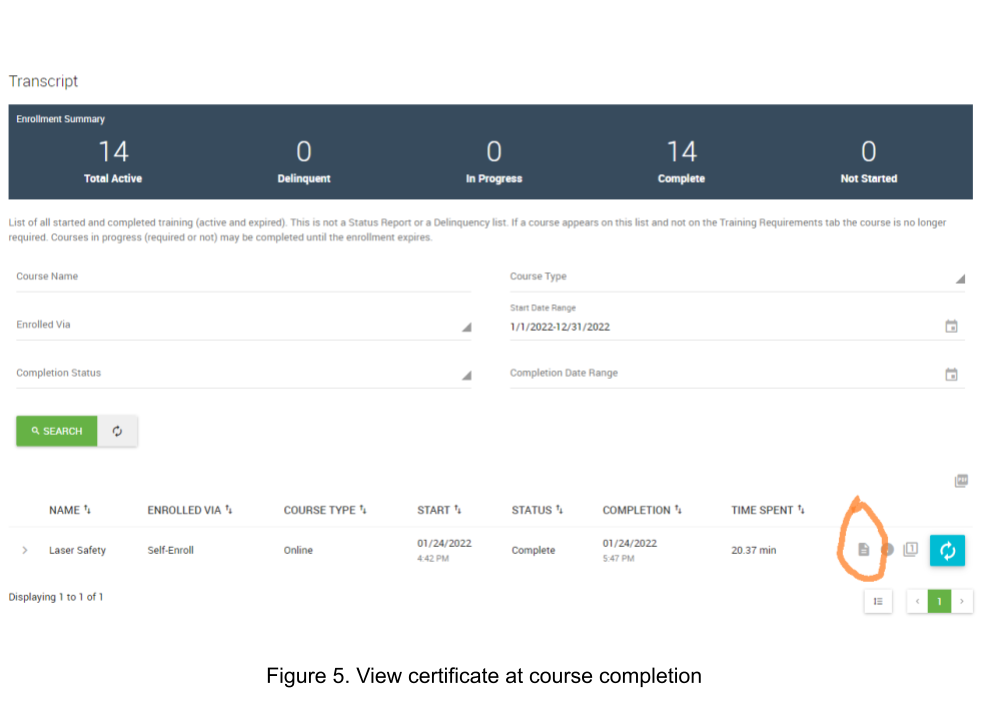 If you forget to save your certificate, you can always create one from the "TRANSCRIPT" tab in your Vivid dashboard. That page will show all of the modules you have finished.

If you have courses other than the Laser Safety listed in your Incomplete Courses list, you should complete those modules, as well. You do not need to send certificates for any courses other than laser safety to the JRML safety officer.
---
Return to the Safety at JRM page.